News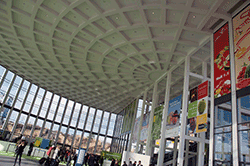 - We are working to enhance your experience - January 23, 2017
We are working to enhance your experience on our new website! Exciting new features like full mobile support and a light-weight page style for full speed navigation. The new website will also feature a renewed logo, page header style and user-friendly menu options. Stay tuned!
- A referral bonus scheme has been introduced for new Exhibitor-level members - October 27, 2011
By suggesting HC to other non-member Exhibitors, you will receive 1 extra CP (Credit Point) upon completion of their first purchase of credit. The new Exhibitors have to add your User-ID number when registering. Inside your account you can find the direct link to send your invitations via email to your friends. This offer applies to new registrations of Exhibitor's accounts only.
- HC brings its service to the next level expanding the availability nationwide to the most event-active cities in Germany - April 22, 2011
Among others: Hannover, Düsseldorf, Munich and Cologne! This means more chances for all registered Users who have now the possibility to insert the availability dates in the calendar individually for each location which suits them best.
But that's not all: in view of the future international Exhibitions as the Paris and Geneva Motorshow the choice of the location has been further extended abroad!
- HC accepts now PayPal online payments for immediate credit purchase - April 20, 2011
HostessChannel includes now the option to comfortably and safely purchase credit points using your own PayPal account. And even if you are not registered on PayPal you can still use your own Credit Card without needing to open a user account. You can find more information on the PayPal website. For Exhibitor's account only.
- HC now on Facebook! - March 15, 2011
Become a fan to stay in touch with the latest events and opinions! Visit the Blogs page for the link.
Get the latest news directly per Email, register here for free!